MG Motor UK has followed up its most successful year ever in 2021 with a record-breaking performance in the fleet market in 2022.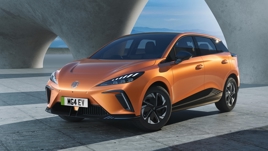 Latest figures from the SMMT show that in the first six months of this year, MG registered 13,377 vehicles into fleet channels, 37% more than for the same period last year.
The manufacturer used CCIA to highlight its affordable plug-in models, the new ZS EV, MG5 EV and MG HS Plug-in Hybrid.
Since the event, MG has confirmed it will launch another battery electric vehicle in September – the MG4 EV.
This will use the manufacturer's Modular Scalable Platform (MSP) battery architecture, which will underpin the next generation of MG models.
The rear-wheel drive MG4 will initially be available with battery capacities from 51kWh to 64kWh and will be capable of between 218 and 281 miles range on the WLTP cycle.
David Allison, head of product and planning at MG Motor UK, said: "The MG4 EV is a key part of the next phase of growth for MG."
However, the growth may slow for a short time as on June 16, Fleet News's sister title AM reported MG Motor UK had halted sales of its affordable EVs as it aims to meet an "unprecedented level of demand" amid global semiconductor supply shortages.
A statement issued to AM by the Chinese-owned carmaker's UK operation said: "Following an unprecedented level of demand for the New ZS EV since launch in November last year, we have taken the decision to temporarily suspend accepting new orders to concentrate on fulfilling our current order banks which are full until the end of this year.
"While we are working with our production colleagues to increase volume, we are affected by the well-publicised global semiconductor shortages which has limited our ability to match supply to demand.
"We anticpatebeing in a position to start accepting orders for ZS EV again in a matter of weeks."
For more information on charging cables for your MG, visit our MG EV Charging Cable page - Click Here